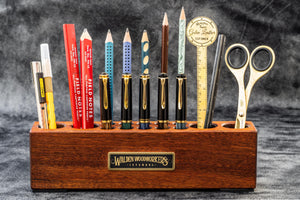 Organize your desk with minimalistic design.
Beautifully handcrafted Wood desk organizer crafted from mahogany.
Four large holes and 10 smallholders.Approx. 5 x25 x7 cm
Small holes fit all type pens and pencils.Also its suitable for thick fountain pens ( like Pelikan M800 or Montblanc 149) Up to 14mm diameter
Its very unique office or home decor.
Grain and color of the wood will vary naturally from the sample shown.