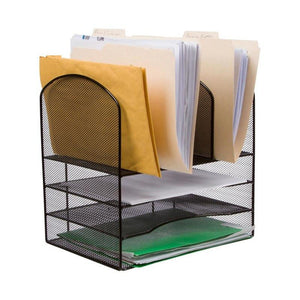 Our Best Seller!
Save 50% Off for a Limited Time! *Current price reflects discount
If you are looking for an effective and high quality desk organizer, then look no further. Our flagship All-In-One Organizer requires no assembly, just unbox and you are all set! Keep all your paperwork organized instead of scattered on your desk or forgotten in your drawer.
Product Features and Specifications
Made from high quality premium materials
Versatile 6 vertical and 3 horizontal shelves
Mesh wire inserts for durability and easy visibility
Dimensions - 13" Length, 13" Height, 9.5" Depth
100% Satisfaction Guaranteed
Organize Files and Documents
Organizing your paperwork makes you more productive at home or at work and ensures that important documents don't go missing. Save time and reduce stress.
Protect Documents and Desktops
Made of strong wire construction ensures that documents are protected from creases. The tiered design keeps paperwork off the desktop, protecting important documents from liquid spills.
Guaranteed Safe Checkout via PayPal/Visa/Mastercard/AMEX