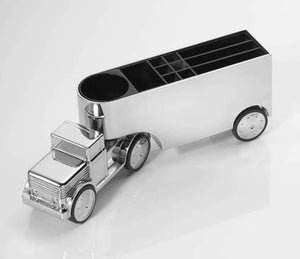 Troika Office Trucker Desk Organizer
Troika's "Office Trucker" Paperweight and Desk Organizer has numerous slots and compartments to store your pens, pencils, USB hard drives, paperclips, receipts, letter correspondence, etc. In addition to an adjustable and turn-able axle, Troika's Office Trucker is also equipped with a pullback friction motor, allowing you to keep your productivity and organization trucking along.
Product Features
Semi-truck Tractor Trailer paperweight and desk organizer
Adjustable/turn-able truck axle
Magnetized slot for storing paperclips (includes 5 paperclips)
Pullback friction motor
Dimensions: 8.08 x 1.58 x 2.88 inches
Materials: chrome-plated with a shiny finish
Weight: 0.59 lbs
Colors: silver/black
Customize Troika "Office Trucker" Desk Organizer with Logo Engraving
Max engraving surface size: 1.77 x 1.77 inches

Engrave the owner's name, a special message, or promote your business with customized Troika Office Trucker Desk Organizers.
.