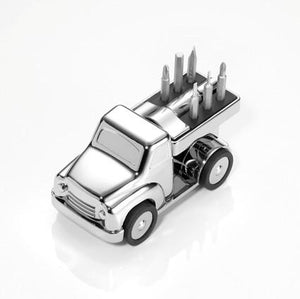 Troika's "Walton Truck" Paperweight and Tool Set is ideal for the handy person who needs their power tool accessories accessible at all times. The Walton Truck is equipped with a "tilt-able" loading platform that can store six drill bits (a set of six is also included). In addition to being a nifty paperweight with a magnetized hood for organizing paperclips, the Walton Truck also has a pullback friction motor, allowing you to transport the vehicle where it is needed.
Product Features
Pickup truck paperweight and toolset
"Tilt-able" loading platform with a bit holder and 6 drill bits
Magnetized hood for organizing paperclips (includes 5 paperclips)
Pullback friction motor
Dimensions: 3.86 x 1.89 x 1.93 inches
Chrome plated with a shiny finish; chromium-vanadium drill bits
Weight: 0.58 lbs
Colors: silver/black
Customize with Logo Engraving
Max engraving surface size: 0.79 x 0.20 inches
Engrave the owner's name, a special message, or promote your business with customized Troika Walton Truck Desk Organizers.
.