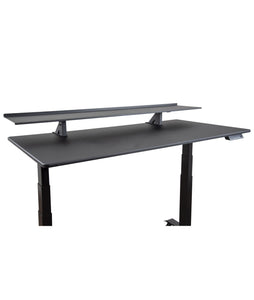 Brand: Stand Up Desk Store
Features:
MAXIMIZES USABLE WORK SPACE: Our desk shelf adds storage for books, supplies, and more, both on and beneath the shelf.
OPTIMAL ERGONOMICS: This premium height adjustable dual monitor stand delivers strain-free and comfortable viewing by letting you position your computer screens at the perfect height.
ADJUSTABLE: The shelf can be set to 5, 6, or 7 inches above the desktop surface, while the legs are horizontally adjustable to avoid interference with other desktop accessories and items.
STURDY: Offering a 60 pound weight capacity, durable powder-coated black steel legs, and robust mounting hardware, this desk organizer shelf will provide years of reliable use.
SECURE: A 3/4 inch rear lip and textured shelf surface helps prevent items from sliding off the monitor riser.
Publisher: StandUpDeskStore
Details: When it comes to adding functional space to your work area, it's hard to beat a desk shelf. They're also handy when used as a dual monitor stand, raising your screens to a comfortable height where you don't need to tilt your head. The Stand Up Desk Store 60" Clamp-On Desk Shelf | Dual Monitor Stand with Adjustable Height is a great addition to any standing desk up to 1.125 inches thick at 60 inches wide or more. Highlights include tool free installation with robust thumb screw clamps. The legs are horizontally adjustable, allowing you to accommodate other objects and installed accessories on the desk. The shelf can be adjusted to 5, 6, or 7 inches above the desktop surface, placing your screens at the perfect height while also opening up plenty of space beneath the shelf to stash staplers, tape, and more. A 60 pound weight capacity ensures it will safely support your books, monitors, and more while a 3/4 inch rear lip and textured surface helps keep items securely in place. Available in black.
UPC: 816423022051
EAN: 816423022051
Package Dimensions: 62.5 x 16.0 x 4.0 inches