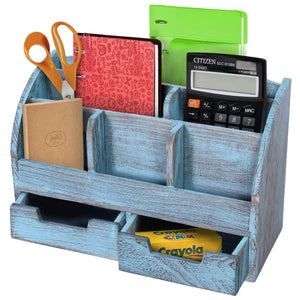 RUSTIC DESK ORGANIZER: Enjoy the advantages of a neat workspace by organizing your documents, mail and desk accessories with our vintage office desktop organizer. With the convenient 6 compartments, you will keep everything in place and remove the hassle of a disorganized space.

INCREASE FOCUS AND PRODUCTIVITY: A clear workspace can help improve concentration and let you get more done. The wooden, farmhouse organizer gives you a place to put your papers, pen and even your phone, letting you quickly clean and tidy your space for a new project while keeping everything you need close at hand.

CONVENIENCE & STYLE: 2 slide-out drawers, 4 compartments for small accessories and 2 compartments for mail, letters or larger accessories. Impress your guests with a neat and stylish décor!

NO ASSEMBLY REQUIRED: Just take it out of the box, place it on your desk, and get organized! Our farmhouse organizer will keep your stuff organized while giving your space a warm, rustic touch.

100% HAPPY CUSTOMERS: We're so confident that you'll love our product, that we'll give your hard-earned money back if you're not thrilled with your purchase. Simply contact our friendly customer service team to make it right. It's all on us - so there is zero risk to try the product today!