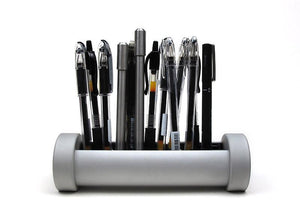 DISCONTINUED PRODUCT
This item is no longer being made or sold.
---
Say "good-bye" to that old coffee mug and "hello" to your awesome new desk organizer.


We made the PHX Organizer to be versatile and complement our workspace's bead-blasted aluminum theme. The internal mat holds a variety of objects in place, making it not only useful, but also showcasing the objects we use everyday rather than stuffing them into a drawer (or an old coffee mug).
*Pens, cords, phones, & any other objects displayed in the photos are not included.
Shipping OUTSIDE the USA?
Order on
Features
Features
- Accepts a variety of objects — pens, pencils, smartphone, etc.
- Cord organizer slots
- Bead-blasted finish
- Removable silicone mat for quick & easy cleaning
- Anti-slip silicone feet
- Presentation/gift box
Dimensions/Weight
Specifications
- Length: 7.5 in (19 cm)
- Height: 2.2 in (5.6 cm)
- Depth: 2.3 in (6 cm)
- Weight: 16 oz (453 grams)
Materials
Materials
- Solid aerospace-grade 6061 aluminum — Body
- High-quality silicone — Internal finger mat
 (Eco-friendly and 100% recyclable materials)