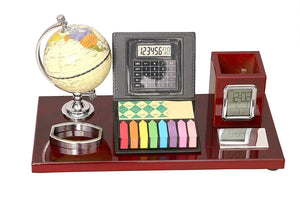 Description 
Pen Stand Desk Organizer Office Accessories home Decor

Wood Desk Organizer - Wooden Bureau Organizer - Wooden Pen Holder - Complete Table Organizer - Office Desk Storage - Holder

This ALL IN ONE desk organizer made from single piece of oak wood contains everything what you may need on your desk. One big platform holds 8 different wooden boxes/containers of various sizes. All desk organizer is covered with oil, that will keep your desk organizer safe and will add to a long-lasting usage.

MATERIALS: Desk organizer is crafted from a single piece of wood, designed and made in my workshop using a CNC milling technology. It is environmentally-friendly and ecologic.

Please convo me if you want to personalize this desk organizer and I'll create a custom listing for you.
Beautiful Plastic Table Desk Organizer.
Material: Plastic.
Height: 7" Inches.
Base 13" X 7" inches.
Weight: 814 Grams (Approx.).
Color: Black
Here we have for you a collection of quintessential items that each one of you need at your work place, especially on your desk. This Desk Organizer will keep away your desk from being a mess. Made of Plastic that has the capacity to hold four Dip(fountain) pens.It has two Trays to hold tiny essentials such as pins etc in both sides and It has a miniature of calendar. Also there's a holder for Pencils & Ball Pens and Mini Globe.
Weight of Product: 3 KG
Shipping Cost Charged To You For This Product: Rs 115
Product Ships In Max 2 Business days
COD Orders Will Charge Rs 50 or 2% Extra Whichever Is Higher