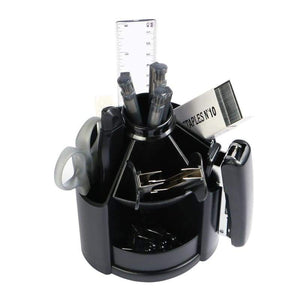 Overview
Categories :
Office Supplies
Product :
12 Pieces Stationery Set Rotatable Desk Organizer Combo, Black - Moustache®
Description :
* Plastic material desktop organizer office stationery set
* Well-constructed and durable design
* Clear away the clutter on your desk
* Good choice for home and office
* 12 Pieces Stationery in one combo


Specifications
Specifications
Specifications
| | |
| --- | --- |
| Product Type: | Stationery Set |
| Material: | Plastic |
| Usage: | School, Office, Home, and Other |
| Color: | Black |
| Size (L x H): | 10 * 14 cm |
| Accessory: | Come with 1*Rotatable Desk Organizer, 3*Ball Pens, 1*Scissor, 1*Eraser, 1*Sharpener, 1*Knife, 1*Ruler, 1*Stapler, 1000pcs*Staples(10#), 1*Staple Remover, Push Pins, Paper Clips. |
OEM Cartridge. OEM stands for the Original Equipment Manufacturer. If you own a Brother printer for instance, then the OEM cartridge is manufactured by Brother.
Compatible Cartridge. A compatible toner cartridge is made by a third party manufacturer and is made up of all new compatible parts. It has a similar quality to an OEM cartridge, but the price is much cheaper than the OEMs.
Remanufactured Cartridge. A remanufactured cartridge is when a third party manufacturer recycles an original OEM cartridge, disassembles it, tests and replaces any worn parts, fills it with ink or toner, and re-assembles.
Compatible and remanufactured cartridges will print at least the same page yield than the OEMs, and backed by our
Click anywhere to close this popup
Page Yield is an approximation of the number of standard pages that can be printed with one cartridge, usually measured at 5% page coverage.
Our new compatible and remanufactured cartridges will print at least the same amount page yield which is suggested from the original (OEM) cartridges.
Click anywhere to close this popup