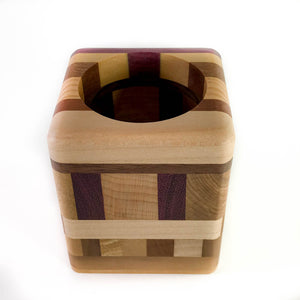 DESK ORGANIZER, HANDMADE
These lovely desk organizers are hand made from a variety of local woods in a patchwork design. The design uses the end grain of the wood which gives an interesting texture and look.They have small rubber feet on the base. Each is slightly different wood configuration.
Made by Robert Jakobsen of Nanaimo B.C
Robert is an artisan native to Nanaimo, British Columbia where he salvages much of the wood used in his work. Logs which are considered to have little market value (e.g. destined for firewood) are milled with a portable band saw mill. Robert works with local woods to illustrate the diversity and beauty of British Columbia's forest resources and the need for more attention to resource management.