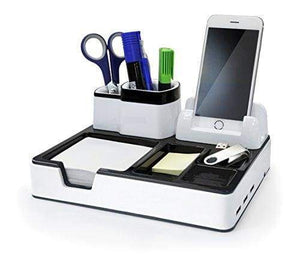 Brand: zoomyo
Color: White / Black
Features:
PERFECT: An elegant combination of desk box/pen tray and USB charging station - a must-have for any desk; the perfect office accessory.
With four storage compartments: 1 compartment for post-it notes (9.4 x 9.4 cm), 1 compartment for marking strips (4.5 x 9 cm), 2 compartments for paper clips (4.3 x 4.3 cm each) and other office items needed in day-to-day life, plus 2 pen compartments with space for approx. 13 and 4 pens.
3 USB ports on the side for conveniently charging external USB devices, input current: 2.0 A max; output current: 1.5 A max (total), no hub function
Use your USB charging cable or your power supply / charger for speedy charging. You can then use your USB charging cable for data transfer via your PC. The 3 USB ports on the side are not suitable for data transfer.
Contents: 1 Desk Organizer, 2 different holders for chargers (1 x for Apple iPhone 4, 4S, 5S, 5c, 6, 6, 6 Plus, 6S, 6S Plus, 7, 7 Plus / 1 x for Samsung Galaxy S3, S4, N7100, NOTE 2, i 9070-9500), 1 x English manual, cable length 85 cm
Publisher: zoomyo
Details: Desk Organizer ZD-03
Your multifunctional helper - a must-have for every desk!
The ZD-03 includes integrated slots for notepads, paper clips, pens and other office items.
The Desk Organizer ZD-03 also has a handy charging slot for Apple iPhone (4, 4S, 5S, 5c, 6, 6 Plus, 7, 7 Plus), Samsung (Galaxy S3, S4, N7100, NOTE 2, i 9070-9500) and
other smartphones of up to 6 inches. You can also connect 3 further USB devices to one of the
USB charging ports located on the side of the Desk Organizer ZD-03.
Technical specifications:
Input / output voltage: DC 5V
Input current: max. 2.0 A
Output current: max 1.5 A (total)
USB connections: 3
USB cable (included): 1
Cable length: 85 cm / 33 inches
Dimensions: approx. 217 x 187 x 96 mm / 8.5 x 7,3 x 3,7 inches
Weight: approx 470 g / 1 lbs
Power adapter not included
EAN: 4260368032457