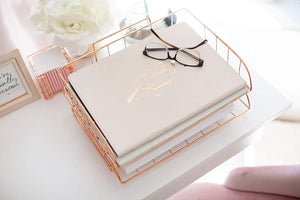 2 Piece Rose Gold Stackable File Trays
This two tier, two piece rose gold organizer set is perfect for any home or office decor.
Made with high quality steel and in a trendy rose gold finish, this stackable letter tray looks great and is easy to use. \
Product Details:
2 Piece Set
H 2.25" x D 9.75" x W13.25" one tray
H 6.25" x D 10" x W 13.25" two trays stacked
No Assembly Required
Durable Gold Electro-Plating
Solid Steel Construction
Stackable
Handcrafted Grid Wire Metal
Chip, Crack, Peel, Rust Resistant
Color: Rose Gold
Stackable rose gold trays desk accessories for office organization.
TWO PIECE SET: Any desk or workspace could use a little organization and rose gold office desk accessories. This gold desk organizer in rose gold is just the thing to organize paper trays for classroom and letter sorter for mail.

EASY ORGANIZATION: With no assembly required, this rose gold makeup organizer or letter tray organizer is easy to use as a copper tray. Just place it on your desk or office space for instant organization as a paper sorter organization or teacher desk decor.

FITS YOUR STYLE: If you love classic, industrial dresser, this letter trays for desk stackable is perfect for you. It has plenty of storage, is simple and easy to use, and will look stunning too as a metal file organizer.

SOLID CONSTRUCTION: Made of hand crafted grid wire metal, these stackable gold serving trays and desk trays stackable are durable and finished with electro plating so they last many years to come as a mail organizer desktop.

SAVES SPACE: These two gold file organizer are easy to use and beautiful, but they are also space saving as a rose gold tray! They easily stack on top of one another as a mail tray or desk mail organizer to make room on your desk for other papers and your laptop computer and a desktop mail organizer.