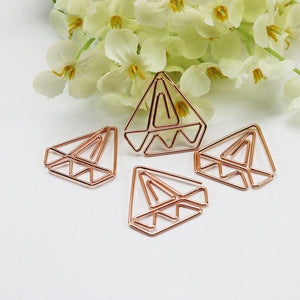 30pcs Diamond Rose Gold Paper Clips in Reusable Acrylic Paper Clip Holder Clear Bookmarks Clips for Book
Rose gold color shows the great encounter of nature, Fashion and Modern!

Quality acrylic clear clip holder is convenient for home and office desk organizer!

We believe whatever is worth doing is worth doing well!


Product Features
1. Luxury rose gold paper clips with acrylic paper clips holder clear, 70mmx60mmx29mm(2.76"x2.36"x1.15");
2. 30pcs rose gold paper clips with diamond shape, 30mm x 30mm (1.18"x1.18") size, dia 1mm metal wire;
3. A luxurious encounter of rose gold, naturally elegant, naturally beautiful. YOU DESERVE THE BEST!
4. Rose gold color with full metal advanced nickel plating technology, high-grade and anti-rust;
5. Package: 30pcs paper clips in acrylic clip dispenser per package.