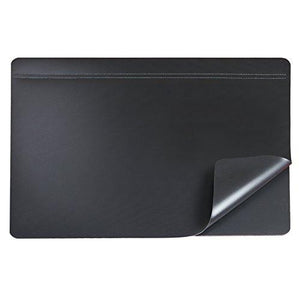 Hide-away desk pad features an easy-lift overlay writing surface that keeps notes, photos and important papers hidden.

No-glare, self-healing writing surface protects your desktop from scratches, stains and spills.

Super grip non-slip foam backing keeps desk organizer pad in place.

Helps to meet HIPAA compliance by keeping documents out of sight from prying eyes.

Nominal size

actual size may vary slightly.

Color : Black

Size : 20" x 31"
The Lift-top writing surface easily lifts to quickly insert important notes, documents and folders to keep them hidden and private. Designed to assist in HIPAA compliance, the Hide-Away Desk Organizer Pad has a matte black firm writing surface that reduces eye strain and hides documents below. A super grip non-slip foam backing keeps the organizer desk mat in place and protects the desk surface from scratches, stains and spills. This unique desk pad will keep your desk neat, professional, and organized as often referenced material is available but out of sight from visitors. The perfect desk pad for accounting, human resources or medical offices where privacy and security of information is required.