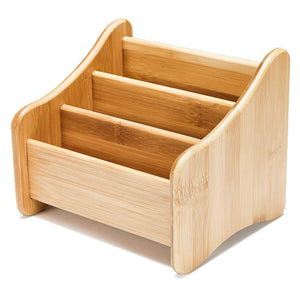 100% Natural Bamboo Desk Organizer, Premium Remote Control Caddy with 3 Compartments & 1 Drawer, Great for Desk, Vanity, Tabletop in Home or Office (with Drawer)
⚡New arrival MICraft office desk organizer, a great solution for your daily life!⚡

Safe & Non-Toxic Remote Control Holder
Crafted of 100% natural eco-friendly bamboo material. Make your life more healthy.

100% Handmade & Durable Remote Caddy
The newest 3 times handmade finishing polish technology makes it extremely durable for many years with little maintenance.

Small But Multi-functional
Small design(7.6â€x6.5â€x6.3â€) with 3-Tier built-in compartments offer you enough space to keep everything stay organized on your desktop.

Widely Use
Great for kitchen gadgets, craft supplies, makeup/hair accessories, meet all your need perfectly for home, school or office.

No Assembly Needed Remote Control Caddy
It comes fully assembled, not a single assembling step needed.

About us:
Since 2005, MICraft strives to make the highest quality products to meet your expectations,
with a strong R&D and product quality control team to ensure the quality of this remote caddy.

Risk-free guarantee:
If in any case this desk organizer malfunctions, you can get a full refund within 90 days.
Feel free to contact us, we will response you immediately!
Product Features
NO CHEMICAL & VARNISH ODOR REMOTE HOLDER: Made of 100% organic bamboo material, grown over 5 years, 100% chemical-free. Natural anti-bacterial, mildew/insect resistance, and odor-resistant properties make more healthy for your life.
NO ANY BURR AND CRACK BAMBOO DESK CADDY: Due to the newest cold compression, high-temperature hot pressing technology & 3 times finishing polish, make the surface extremely smooth, no burr feeling at all.
SMALL BUT SPACIOUS WOOD DESK ORGANIZER: Small design (7.6â€x6.5â€x6.3â€) with 3-Tier built-in compartments, safely and efficiently store all your office supplies and accessories, including sticky notes, pencils, pens, rulers, scissors, pushpins. Meet all your need perfectly. Ideal for desk, vanity, tabletop in home, school or office.
100% HANDMADE & DURABLE REMOTE CADDY: Polished and carefully crafted by professional handmade craftsmen, make it extremely sturdy and durable for many years with little maintenance.